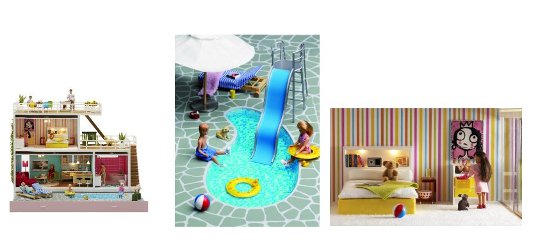 Amazon have the ubber daddy of dolls houses on sale at the moment, in the shape of the Lundby Stockholm Doll's House for £36.48 instead of £95.50, saving a massive £59.02.
The Lundby Stockholm Doll's House is not a house, so much as an open plan villa house which comes virtually fully assembled.  Apparently it can be plugged in and lit up, although you have to purchase the lights separately as only two are supplied.  You also have to buy a transformer separately, so you'll have to add the cost of those to the overall purchase.
In the box you'll receive the house with pool, pull-down acrylic doors in front of all the rooms, a sliding door for the bedroom and the sunroof and staircases.  It does sound like the house has fabulous features – a mosaic pool, a stone effect terrace and electricity.
The only word of warning is in the buying of the transformer, which according to wishihadadonkey on HUKD, "a problem in buying the correct voltage lighting transformer as it needs a 4 volt one, but on several doll house forums people have said that there are ones available or just rewire the house & use a 12 volt one, or just don't use the lighting, it's great value even without it."
Thanks to wishihadadonkey at HUKD