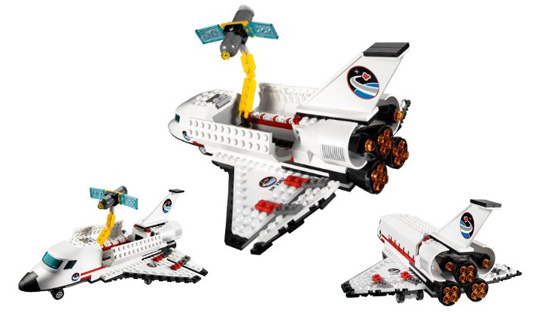 Amazon are selling this LEGO City Space Shuttle for £14.98 instead of its usual full price of £26.99.
Space and space travel is back in the news as we were treated to the sight of boffin NASA space scientists jumping up and down like school kids when their latest remote control toy Martian rover touched down on the surface of Mars yesterday.
Would you like to go into space?  Do you think that space travel will ever be routine a'la various sci-fi franchises on TV?  I think I'd like to go to the outer edges of space - you can already do that in a plane, I watched James May of Top Gear fame experience that and it looked fantastic - but to properly leave the various 'spheres and the planet behind, well that's a whole different thing altogether.
If you have a wannabe astronaut then perhaps this LEGO City Space Shuttle will inspire them to chase their dreams and maybe one day see them up in space for real.  Or maybe they'd rather keep their feet on the ground and run mission control instead.
Whichever space role they'd prefer, this LEGO City Space Shuttle price is a pretty good one and I've noticed that Amazon have been tinkering around with their LEGO prices a fair bit over the last week or so, so don't be too surprised if it goes back up to full price pretty quickly.
Thanks to asm80 at HUKD