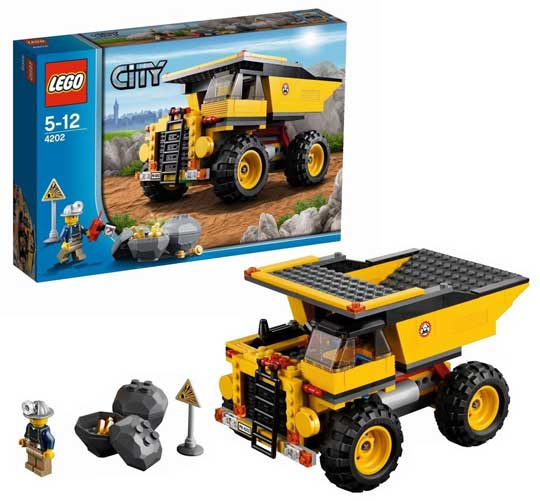 Argos are selling this LEGO City Mining Truck for £14.99 instead of £19.99 - only a small saving, I agree, but any saving on anything LEGO is something to be celebrated and taken advantage of!
I've written a LOT of LEGO City deals since writing for PlayPennies, and in my head I've built an AWESOME LEGO City - I've got a harbour with boats, I've got houses, all of the emergency services are covered and the police man keep an eye on the robbers who, occasionally, roam around; I've got forests complete with forest rangers and a wild bear!
What I haven't got, yet, is a mine or any sort of mining equipment - well, all that's about to change as I add this LEGO City Mining Truck to my imaginary LEGO City.
It's rather huge - measuring: H26.2, W38.2, D7.1cm - and has big, chunky all-terrain wheels and comes with dynamite. a timer for the aforementioned dynamite (very handy, I'm sure you'll agree!), a giant rock containing two gold crystals, three gold nuggets and a miner minifigure.
I think the LEGO City Mining Truck sounds rather fabulous and be collected, for free, in-store or delivered to your home - although that will cost you an additional £3.95.
Thanks to Denzilohamen at HUKD