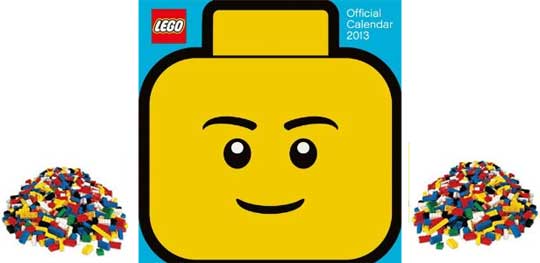 Calling all LEGO fans, calling all Lego fans! Amazon are selling this LEGO 2013 calendar for £4.80 instead of £9.59 - that's half price, I repeat, that's half price and cheaper than last year's LEGO calendar.
It's that time of year again where, if your work and social schedule is anything like mine, you're already booking things in for 2013 - aside from birthdays, I've got appointments booked in up until March already!
Last year my youngest son wanted a LEGO calendar of his own (I had a Gruffalo wall planner last year, as did his dad) so he could keep track of all the things he did after school.
His LEGO calendar has helped him learn how to spell the months of the year and the names of family, and friends, by adding their birthdays to his LEGO calendar, along with the things he's does after school, such as: mad science club, cricket, film club, swimming, football training during the week and matches on Saturdays.
His writing and spelling skills are also put to good use whenever he adds something to his LEGO calendar too and anything that encourages reading, writing and learning gets a thumbs up in my book.
Of course, if YOU'RE the LEGO fan then you'll probably love this LEGO calendar just as much too and just for fun, because there really isn't anything I can say about it that isn't universal calendar knowledge, here's the low-down on the LEGO 2013 calendar...
This LEGO 2013 Calendar has 26 pages: a front and back cover, 12 pages for each month of the year and 12 corresponding picture pages featuring LEGO models and characters to help you keep track of all your events, birthdays, anniversaries, meetings and appointments coming up in 2013.
Thanks to chesterdrawers at HUKD