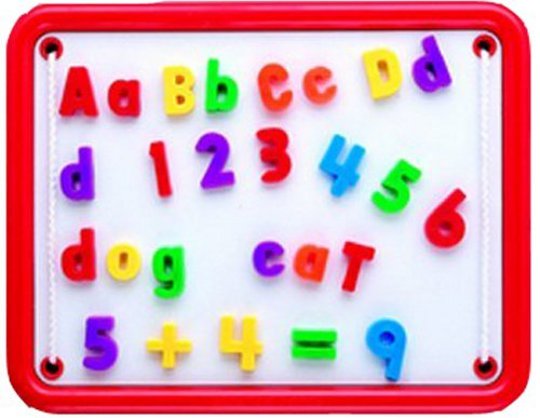 The Learning Resource Magnetic Alphabet and Numbers kit have been reduced from £8.99 to £4.99 at Amazon. Please not these magnets DO NOT come with the magnetic board, but if you have a magnetic whiteboard or a fridge, they'll work perfectly on those.
My daughter's been in the kitchen with me from, well.. birth, really.  I once had a health visitor tell me I had to put a stair gate up on the kitchen door to keep her out while I was cooking, but I wasn't all that keen on having her roaming the house unattended while I was preparing our dinner, so I've just taught her about kitchen safety since before she could walk.
Something I find really helpful in the kitchen with toddlers is having distractions, so we've always had magnets of some description or other on the fridge – weather singing animals or letters and numbers, and they're a perfect way to keep her busy when I have to get something out the oven.
This particular set provides the letters and numbers formed in the same way they're taught at school – I realise writing this that ours have this "a" rather than the "a" we're taught at school. There's also an accurate level of relative proportions between uppercase and lowercase letters, which is useful and includes extras of the most commonly used letters.
All round, it actually seems like a pretty good learning tool!
Thanks to wishihadadonkey at HUKD