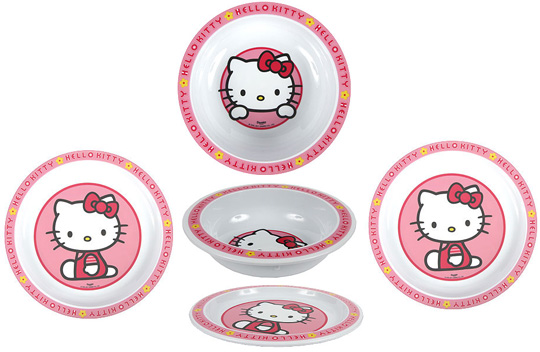 It's amazing how Hello Kitty appeals to very little girls right the way through to older teenage girls! I was talking to a friend in the gym this morning who told me that her teenage daughter is a MASSIVE Hello Kitty fan, to the point of being obsessed.
At 99 pence each for a Hello Kitty bowl and/or a Hello Kitty plate, I'm rather tempted to buy them for her just for fun.
Personally, I don't see what all the Hello Kitty fuss is about - she just reminds me of Miffy, the little bunny character I used to love when I was little. I suppose it's no different really - cat or bunny, horses for courses and all that.
These Hello Kitty bowls and plates are made from plastic, so you can buy them for younger girls and feel safe in the knowledge they're not going to smash if they get dropped on the floor. I can't find anything to say whether or not they're dishwasher safe; but even if they're not, it's hardly going to be a terrible hardship to wash them buy hand quickly.
Please don't even consider arranging for your Hello Kitty bowl or Hello Kitty plate to be delivered to you - it'll cost you more than you pay for both of them - rather arrange to collect them from your nearest Home Bargains store for free.
Happy Hello Kitty!