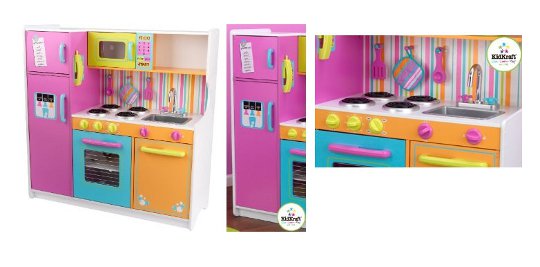 Amazon have 24% off the Kidcraft Deluxe Big And Bright Kitchen selling it for £197.94 instead of £259.99.
This is a really cool kitchen, and will only work if you have a lot of space, but how lovely if you can fit it in your house!
It is bold and colourful, and very pretty and girly. Rather than just a bit of kitchen, it's a whole wall. Brilliant.
The knobs on the oven turn, as do the taps in the kitchen – though they don't have an actual water hook up as some do.  It has a removable sink for quick and easy clean-up.
It has heart shaped design work and gold touches that should appeal to every little one.
The kitchen consists of a fridge, a freezer, an oven, a microwave, all with door that open and close. As is needed in any decent kitchen, there is storage above and below the sink and most importantly, this kitchen is big enough for more than one child at a time to play.