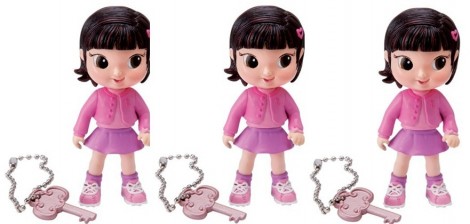 The Tesco eBay Outlet is selling the Keytweens dark haired doll for children aged four and up for only £1.50 including delivery. This is a really good price for a toy and it comes with a cute little key charm as part of the package.
The Keytween dark haired doll has more than just a truly bland name. It is 8cm in size and comes with a collectable key charm that kids will love collecting. The price is also really good for a toy, only £1.50 including first class delivery is a total bargain.
The doll looks quite sweet although every single part of her is plastic. You don't get removable clothing or soft brushable hair here. No, this is just a little figure that kids can play with whenever they feel the need.
This kind of toy is brilliant for long summer holiday trips. If you are going to be stuck on the train, plane or car for long periods of time, then you can grab lots of different cheap toys like these to unleash whenever the cries of, "I'm bored" get a bit too much.
Thanks to Yorkie1962 at HUKD!