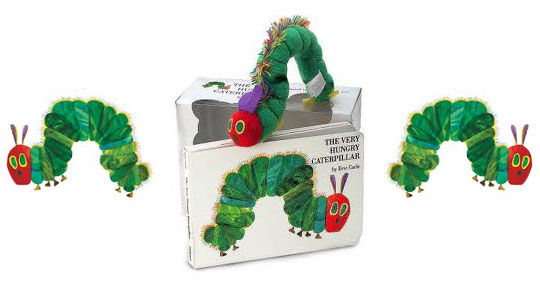 It's Easter soon and the country's children will be bombarded with more chocolate than they could ever dream of, but what if you don't want to 'do' the masses of chocolate thing? Then what?
Well I think this Very Hungry Caterpillar gift set would make a lovely alternative Easter gift; I bought it for Tamsin's daughter a couple of years ago as a birthday gift and can reliably inform you that it's LOVELY.
If you've been reading me on PlayPennies for a while then my views on the Very Hungry Caterpillar probably won't have escaped your attention: I think EVERY child in the land should be exposed to the greedy green guy from as early on in life as possible - he's a childhood icon and kids around the world LOVE him.
The Very Hungry Caterpillar gift set comes with a soft toy Very Hungry Caterpillar and a little hardback version of the original Very Hungry Caterpillar book; all the holes are still in the right places, he still eats watermelon and still munches on salami; hurrah!
Even more 'hurrah' is the current price Play are selling the Very Hungry Caterpillar gift set for - £5.49 rather than £10.99; cheaper than some of the bigger kid's Easter Eggs I've seen, will last a lot longer and is far more healthy too.
Thanks to wishihadadonkey at HUKD