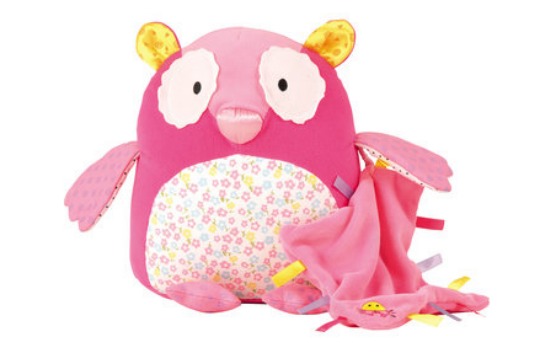 Toys R Us have a lovely little deal on Garden Friends right now. Not only are they reduced from £14.99 to £9.99 but when you buy two, you can get a third one free.
According to the product blurb, this Garden Friends Olive Owl soft toy will help assist your baby's sensory development. The bright colours, patterns and textures can help encourage visual perception and exploration once baby's ability to grasp develops, when responding to tactile qualities and different fabric textures becomes extra fun. Aside from those clever developmental features, I just think little ones will love this happy camper, and I think she's pretty cute myself.
There are only two product reviews but they're both good:
"Colourful and eye catching my daughter loves to reach out and touch the different textures. It's well made and stands up to being cuddled, pulled and dribbled on!"
"Was better than expected. I thought it was only going to be little."
With thanks to noblet007 @HUKD