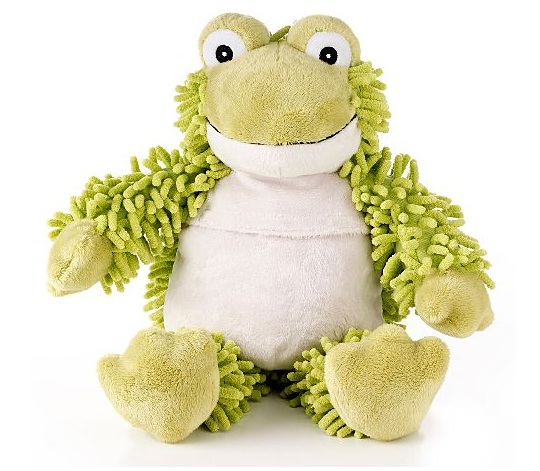 It might be Spring but it is still chilly! These microwave hotties are really sweet, snuggly, and smell great. Debenhams has reduced the Frog Fuzzie Friend Hottie down from its original price of £20 to £10, and now ever further to £6. There's free delivery on the site at the moment - I don't know how long that will last for, it just says for a limited time.
Relax with this warm Fuzzy Friend frog from Aroma Home, with a microwaveable pouch in the stomach to create your own cosy cuddle. The wheat pouch is scented with essential oil to give off a soothing aroma. Something that the whole family could use!
I'd love to be able to use one of these, but I don't have a microwave. Maybe this is a good reason to get one? I have just never had a need to use one before. We had one for years, and maybe used it twice!
The frog hottie is cute looking and certainly seems cuddly. It measures 36x23.5x4 cm, and is 100% polyester. The pouch is removable for microwaving. The inner is 100% cotton calico filled with Cassia seed.
There are nine reviews on the site, and most are pretty good. Only one person gave it a less than 5 rating, and that was because they didn't like the smell. Here's what one reviewer said "
"I ordered one of these to send to the US for my young niece who loves frogs. When it came, I loved it so much I immediately ordered another one for myself. He's bigger than he looks on the picture, the sachet is simple to heat up and he feels very soft and snuggly. I would recommend this fuzzy Froggy friend to anyone."
Thanks to billybass at HUKD!