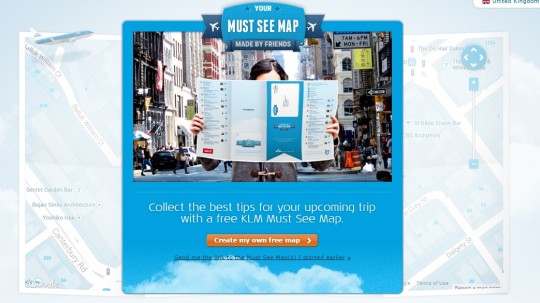 I saw this awesome freebie and thought it would be a simply perfect way to present a birthday or Christmas present. It will take up to 28 days to be delivered, so it's really not too early to start thinking about doing this is if you are gifting someone with a trip abroad in the next few months.
To make this work, click on the link above, then choose the city you're heading to - it has to be on the KLM flight schedule though. You can send a request to your Facebook or Twitter friends in general, asking them to add tips to the map, or if you're trying to keep it a secret, you can ask specific friends who may have a knowledge of the place you're going to.
You type in an address, or a place name, and then you can add why that's a 'tip'. So if you happen to know that a place on Kilroy street in Melbourne has the best Fish & Chips in Melbourne (I have no idea. I'm making it up!) you can add that tip, and it'll be added to your map with a note - say "For when you're feeling homesick, go here for the best fish & chips!"
When you're done and ready, the map is sent to KLM, and they will send it to you within 28 days. Personally, I think this is an awesome way to say 'Bon Voyage', or to let someone know you're taking them on a holiday!