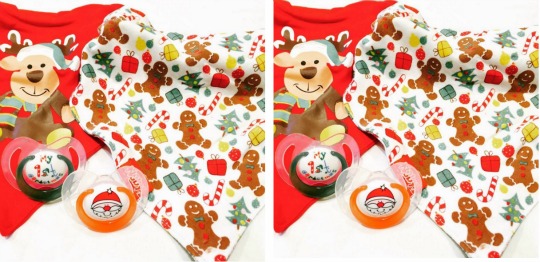 Anyone love Nuby baby products? That will be all of us then! They have some amazing offers right now if you buy direct from them on their own website, including a cracking freebie for Christmas.
Just enter the code FREEBIB at the basket stage before checkout with any order and you will get a free Christmas bandana baby bib.
There is also another promotion for 20% off but you cannot use more than one code at the same time so you need to work out which one is better for you. To get 20% off your order just enter the code MB01 at the basket stage. That code works on Sale items as well as full price items, although it doesn't work with other codes so it will cancel out the free bib offer. It's worth bearing in mind though depending on what you need and the age of your child.
I like the Santa Surprise Bundles which are a mix of items chosen based on the age of your baby. It's a bit like a Lucky dip, and you are guaranteed to get at least £20 worth of products in the pack which costs just £15 including delivery AND you can get the free Christmas Bib with the FREEBIB code at the same time! That's a great deal.
There's also free home delivery when you spend over £15, so you can pick up some great buys or this freebie with these codes.
Thanks lauren_hart_2