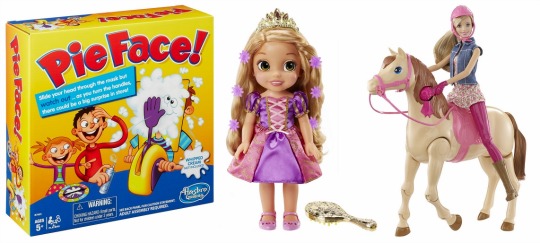 This is a fab offer from Toys R Us! When you spend £40 either online or in store you get a £10 gift coupon for free! It's nice and simple, even though the terms and conditions look pretty daunting when you see them. Here's how it works:
Spend £40 between 5th and 12th October and receive a £10 gift coupon for your next purchase. Coupons can be redeemed between 13th and 20th October only.
If you buy in store your £10 gift coupon can only be redeemed in store, not online.
If you purchase online your £10 gift coupon will be emailed to you on 13th October, and it can only be redeemed online, not in stores.
There are a few exemptions, but these are the usual ones: gift vouchers, baby milk/food/formula, insurance, delivery charges and carrier bags.
What's even better is that this promotion works on top of all other offers that Toys R Us are running at the moment like the 3 for 2 on Thomas Toys, the Free Kerplunk Game offer, and the Half Price Frozen and Disney Princess promotion.
You can click here for the full terms and conditions* of this free £10 Gift Coupon promotion at Toys R Us.
If you want to spread the payments for your Christmas toy shopping then Toys R Us are again running the Take Time To Payscheme so that you can reserve your items now and pay later. That could be really useful for the top toys that can sell out before Christmas.