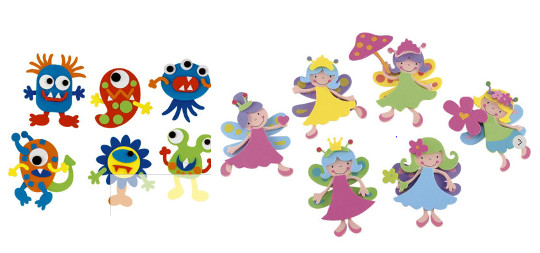 Mothercare has Crazy Foam shapes available for £1.75, reduced from £3.50. If you've not used the VXXN code yet, you can do so now, and get them for £1.40. However, if you're going to have them delivered, it's £2.95 which costs more than the items themselves, but click and collect is available. Alternatively, add them with a larger order to really make it worth while!
There's nothing quite like art and craft time, and having things set up and ready and prepacked makes mum's life a lot easier too. Having them at a really, really good price doesn't hurt either!
The Crazy Foam Monsters and Fairies sets allow children to create their own colourful, crazy monsters and fairy friends.
Included in the set are pre-cut foam pieces and a glue stick. Children can select arms, legs and fangs and stick them on to one of the wacky monster bodies, or glue them together to make six adorable fairies.
This set is great for keeping children occupied on a cold or wet day, or for a playdate,and will make fun decorations for their bedroom.
It looks like there's low stock on the Fairies, but plenty Monsters still up for grabs.
Thanks to mamaFC at HUKD