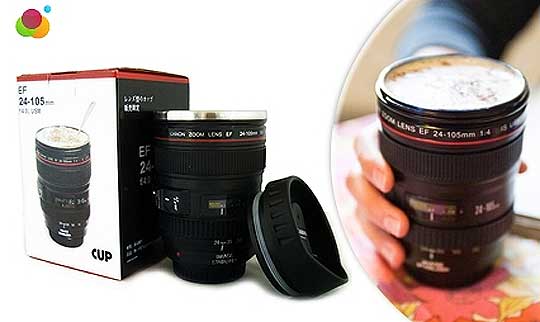 Oh my goodness, I WANT one of these EF Camera Lens Travel Mugs!  Anyone who shots with a Canon will recognise it immediately - indeed, I own this very lens and it's amusing me greatly to have one that is actually a mug!
If you have a photographer wife/husband/boyfriend/girlfriend/fiance/fiancee/whatever, and are looking for an original and fun Valentines day gift, then this might just fit the bill.
I wonder who sat down one day and thought to themselves, "I really wish I had a mug that looked like my EF 24-105mm lens...I know!! I shall MAKE one and then sell it to thousands of other 'togs who want lens mugs too!"
I keep looking at the picture, it really is incredibly realistic and I. WANT. ONE!
The EF Camera Lens Travel Mug is made from food-grade plastic, so it's perfectly safe to drink from.  It won't spill when you're on the move either, as it has a lens cap lid to keep everything contained (and warm, if you've got a hot drink on the go).
You can pick up an EF Camera Lens Travel Mug for £5 instead of £27 for the next five days; your voucher is valid for one month only, postage and packaging are an additional £4.95 and you must allow 14 days for delivery.
I think that covers all the T&Cs - happy drinking out of your lens!