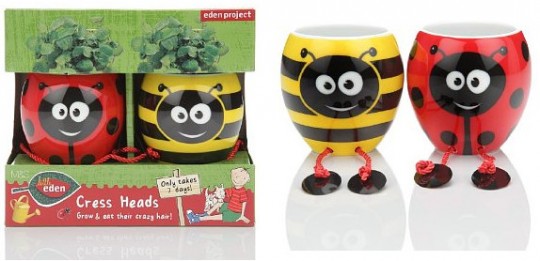 Marks and Spencer has reduced a lot of their summer home stock, and one of the bits that grabbed my eye when I was doing a grocery shop earlier was the Little Eden Cress Heads set. I had a look online and they're on sale here too, reduced from £8 for two pots of Cress to £4.
If you thought it was too late in the season to get planting, you were wrong! These cress heads will apparently give you nutritious cress in just 7 days, making them the ideal first gardening idea for children, because they don't have to wait forever to see anything come of them.
The cress pots are suitable for children aged 3 years and over.
The great thing is that you can actually eat this - it's safety tested and all that - so you can sprinkle some on an egg sandwich for a picnic lunch or something.
Sounds like fun!