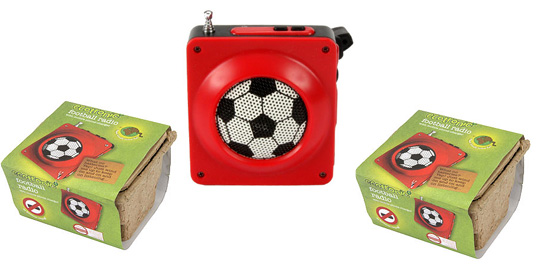 Home Bargains are selling this 'ecotronic' wind-up football radio for just £1.99.
My youngest son has a torch that you wind up to power it, he thinks it's amazing that it will never ever need any batteries so he's bound to like this 'ectronic' wind up football radio - especially as he loves football and has been chosen for the local Under 7s team for the coming season.
Anything that encourages the use of alternative, free power and an awareness of needing to use our resources more carefully, is a good thing in my book.
What I really love about this wind-up football radio is that the manufacturers have packaged it in packaging that is 100% biodegradable and is free of those irritating plastic ties and wires; hurrah - may that practice become the norm' and SOON!
There isn't really much else I can tell you about the wind-up football radio other than you can collect it for free in-store, or pay up to £2.95 for home delivery instead.
Thanks to ambergarcia at HUKD