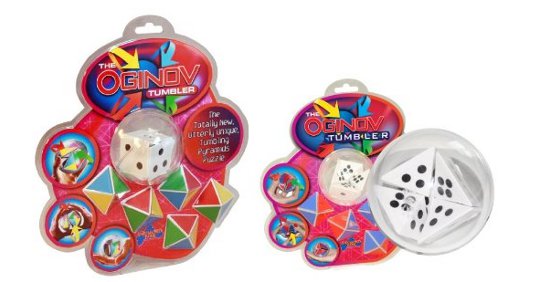 The rather unusual Drumond Park Oginov Puzzle is reduced by a massive 73% at Amazon, selling no for £2.72 instead of  £9.99 and as it's an Amazon product – rather than a marketplace seller – shipping is free.
This is a brand new concept in puzzles apparently – the new tumbling pyramid brainteaser, Amazon calls it.  The Oginov opens so you can put in new sets of puzzle pyramids, with two levels in one pack, suitable for ages 8 to adult.
According to the blurb, to move the pieces you tilt the puzzle over and one of the five pyramids falls over into a new position. Because gravity makes the pieces 'fall' into place, these are called Gravity Puzzles.
There are six levels of difficulty in The Oginov Tumbler range.
Level 1 and Level 2 come in this pack. Level 1 is called The Dots.  When you have learned to solve all The Dots puzzles, twist open the ball and replace the pyramids with the Level 2 set - called 'TRI-2'.
The Dots is an easy introduction to The OGINOV TUMBLER range. You will learn the basic moves and skills needed to move on to the TRI-2 puzzle and beyond. The range starts off easy but leads to mind blowingly hard puzzles in levels 5 and 6.
Recommended for one player.