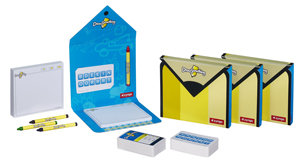 Zynga'sDraw Something, the game based on the hit app, is £6.55 at Amazon, reduced from £19.99
Confession: I've never played the online version, but this game version looks pretty fun!
The idea is for players to guess the word, and earn coins. While the artist draws their picture, other players shout out their guesses.  The harder the word, the more coins earned and the first person to have 15 coins wins.
Each word comes with different difficulty levels, so that the game can be tailored to different ages.
Zynga Draw Something comes with four draw stations, 180 cards, four crayons, four pads of paper, four coin tracker clips and one game guide. It is suitable for ages 8 years and up.