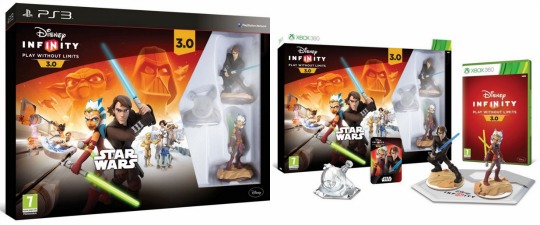 Is Disney Infinity 3.0 on your child's Christmas List this year? If it is then there is a bit of a price war going on as Smyths have dropped the prices of the Starter Packs £32.99 and then Amazon have slashed theirs too!
The store to chose depends on your console as some are cheaper at Smyths and some at Amazon. Amazon has the best price for the PS3 version at £25.99 and the PS4 one at £35. The other console starter packs are cheap at Smyths Toys with the XBox 360 and WiiU starter packs at £32.99, and the XBox One pack at £37.99.
If you aren't aware of what this is, the Disney Infinity 3.0 Starter Pack is one of those 'toys to life' games where you can buy little figures of different characters and when you place them on the special base the character becomes playable in the game.
The starter kit includes the software to play the game, the Disney Infinity Base, 2 Star Wars  Figures of  Ahsoka Tano and  Anakin Skywalker (from the Attack Of The Clones cartoon I believe, but I am happy to be corrected!), and a Star Wars Twilight of the Republic Play Set Piece.
All these Starter Packs qualify for free home delivery from either Smyths or Amazon as they are all over the minimum spend, or you can click and collect from Smyths stores if that is more convenient for you.