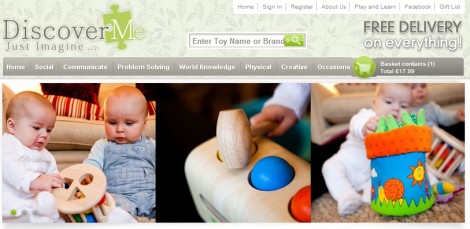 Use this Discover Me Toys promotional code – exclusive to PlayPennies – to get 15% off your order. And you really do not want to browse this site unless you are prepared to buy, because the toys on here really are that good. The focus is on educational, but they are still fun. And made of wood.
Click here to use your 15% Discover Me Toys promotional code
Discount: 15%
Voucher code: PPSUMMER2011
Expires: 8th August 2011
To use this code, go to the Basket and enter it in the Voucher Code box. Click on the green icon next to the box to apply it to your order.
The age range for toys on this site is 0-5 years. Although my son is now, disappointingly, too old at 6 for most of this, Discover Me Toys is my go-to site when gift buying.
I wanted to test the code out on this stunning Tuneable Drum. My son already has a snare drum and cymbal set in his room, a floor tom downstairs for practicing on, and a full size drum kit that is a little too big to set up for him just yet. Yes, you might have guessed, my other half plays the drums. And he loved this traditional drum. But it was out of stock.
So I tried it out on these lovely Animal Dominoes instead. The code took the price down from £12.99 to £11.04. Delivery is included.