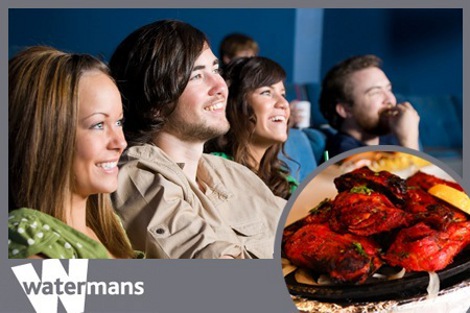 Everyone needs a little 'me time', and every relationship – love or friendship – needs a little 'us time' every now and then. Unfortunately in the world of especially the new parent, that's an MOT that falls far down the list sometimes, yet is essential to keep everything running smoothly. Hopefully this dinner and movie deal from Groupon for just £11.00 will help you rev those engines.
Okay, that's the end of the trusty vehicle analogies, I promise!
This is a deal especially for the London-based readers, or for those who want an affordable night out in the Big Smog.
The offer includes a movie at the Watermans cinema in Brentford (across the river from Kew Gardens). Watermans is a community arts centre that has been providing both independent cinematic experience and blockbusters for 25 years.
Of course, a good night out should really include a dinner, so this offer includes a choice of three curries from the waterfront Guru Tandoori Restaurant, as well as a glass of wine, beer or a soft drink.
One voucher is valid for two people, and you can buy as many vouchers as you like, since they are valid for six month, seven days a week.
So, call in a few favours, or swap childcare with friends, and that's date night sorted for a few weeks!
P.S. You'll have to sign up to buy this voucher, but you don't have to receive the newsletters, and they regularly have pretty great offers, so it's worth it!
Thanks to amibees at HUKD