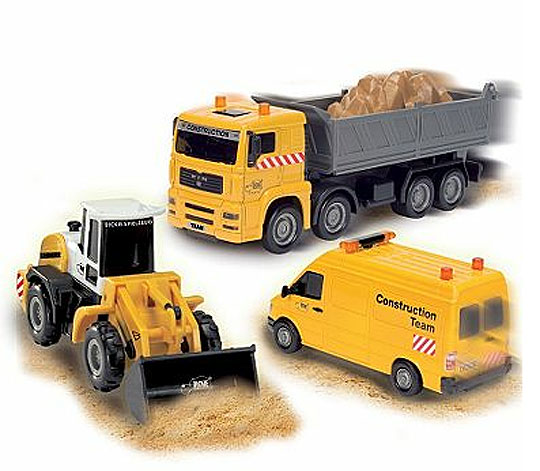 Debenhams are selling this Dickie Mini Construction Team set of building site vehicles for £3.60 - they're original price was £12, which was then reduced down to £6 and now brought down to £3.60; marvellous.
You really can't go wrong with construction toys for little boys (I'm not being gender biased really, but how many girls have you seen rushing to play with diggers and dumper trucks?) and it's even better when they're such a decent price, as is the case with this Dickie Mini Construction Team of building site vehicles.
There's a fully functioning dumper truck, complete with plastic load - although almost anything that will fit into the back of the truck will end up being transported in it, I'm sure.  There's a front loader JCBesque digger and a construction site van to drive around site with too.
You can arrange to collect your Dickie Mini Construction Team for free in-store, OR you can have them delivered to your home for free (standard delivery is within four working days).
Thanks to Wadjet at HUKD