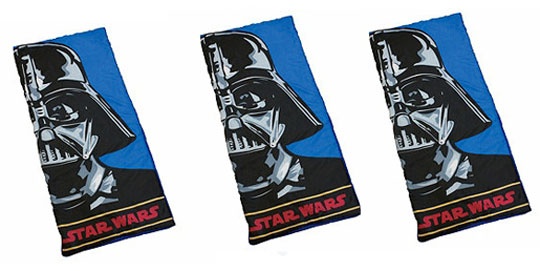 On Saturday I told you about a Darth Vadar back pack (at least I think it was Saturday, I'm having trouble remembering what I did yesterday, let alone before that!), if you have a young Empire fan in your family then they might like to add this Darth Vadar sleeping bag to their Dark Side collection of things.
Tesco are selling this Darth Vadar sleeping bag for half price, £3.50 instead of £6.99, so it's not going to be an addition that's going to break the bank - unlike the rather fabulous Tauntaun sleeping bag I came across a few weeks ago!
My youngest son is a massive Star Wars fan and is just about at the stage where he's going to want to go and stay over at friend's houses and have them come to stay with him.
You can always have an extra duvet handy for when little guests come to stay but a lightweight sleeping bag, like this Darth Vadar sleeping bag, can make for a cost effective and space saving alternative solution
This one is made from polyester, comes in its own carry bag and can be thrown in the washing machine as and when necessary; marvellous.
You can arrange to collect your Darth Vadar sleeping bag for free at the Tesco store of your choice, or you can pay their new, cheaper, £3 standard delivery fee and have them drop it off to you.
Thanks to k8ie1980 at HUKD