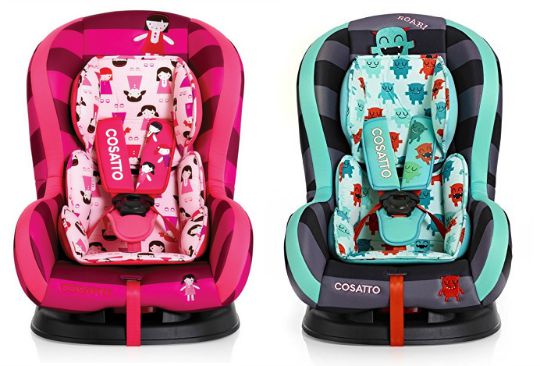 The Cosatto Moova Group 1 Car Seat is on a Lightning Deal @ Amazon for the next 6 hours, with the pink Dilly Dolly colour down to £62.99, or the Cuddle Monster is priced at £69.95 at the moment as well. Although both of these are great prices (around half price) there is also a way for you to get an extra £15 off as well!
When you sign up to a free 30 day trial of Amazon Family, as well as all the benefits of Amazon Prime and the discounts on baby products you get a single use voucher code. You get £15 off when you spend £60 on selected baby products by entering the code BABYFMLY15 at the checkout. You can find out more about Amazon Family here*, but if you don't want to pay for the subscription make sure you cancel before your 30 day trial is up.
The Cosatto Moova Group 1 car seats are suitable from around 9 months of age up to 4 years, and these are forward facing with a five point harness, 3 recline positions and side impact protection. You can find lots more information about the safety features of this car seat along with all the specifications on the link above.
It's juts the Dilly Dolly and Cuddle Monster patterns that are reduced by this amount, as the rest are still near to the RRP of £120. There's no extra to pay in postage and packing as free delivery is included.
The Dilly Dolly car seat price will go back up later tonight, but the Cuddle Monster seat price is not a lightning Deal so you should have a little longer to buy at this price.