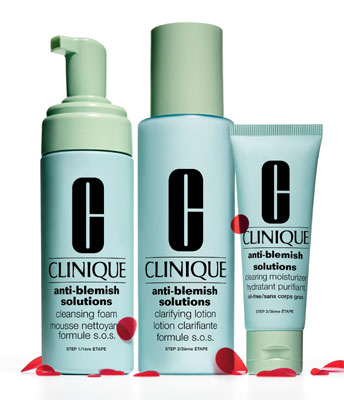 If you're a fan of Clinique's gorgeous skincare range, then you're going to love this.
Simply pop over here to Capital Radio's Clinique promotion page and enter your details as prompted (name, surname, contact number, email address, first line of your postal address and postcode)  and in return, you'll receive Clinique's Anti-Blemish Solutions 3-step sample set.
That's it - no purchase necessary, no small print, and no catch. Just lovely skincare samples, free of charge!
It's not entirely clear exactly what you'll get but Clinique's Anti-Blemish Solutions 3-Step System consists of Cleansing Foam, Clarifying Lotion, and All-Over Clearing Treatment so presumably you'll get sample size packs of each. Let's hope so!
When I got married (many moons ago) a lovely relative treated me to some Clinique skincare as a bit of a pre-wedding boost and I've got to say, my skin was in absolutely tip-top condition, come the big day. I think I got as many compliments about my glowing complexion as I did about my wedding dress!
And while I wouldn't stretch to Clinique skincare for daily use, I do still treat myself every now and then to something from the Clinique counter at my local department store, and I've never yet been disappointed with a product of theirs.
You just can't beat getting them for free, though!