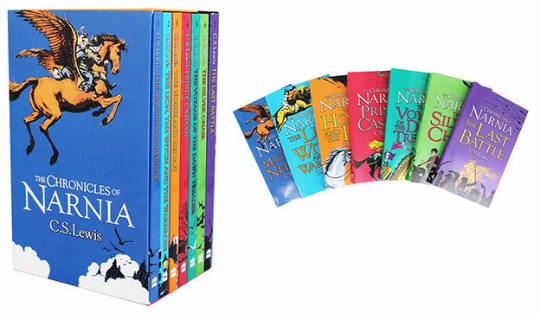 This is a fantastic offer from The Works, as they have the full 7 book Chronicles Of Narnia Collection for only £10, but when you add our PlayPennnies Exclusive voucher code PLAY20 you get another 20% off making it only £8 for the set!
The cheapest price I can find this set for anywhere else is £11.99, so £8 is the cheapest price by a long way! This set includes all seven books in a smart slipcase to keep them together, and would make a lovely Christmas gift.
You get  'The Lion, The Witch and The Wardrobe', 'The Magician's Nephew', 'The Horse and His Boy', 'Prince Caspian', 'The Voyage of the Dawn Treader', 'The Silver Chair' and 'The Last Battle' so that children (and adults) can enjoy the whole story from start to finish.
I first read these stories when I was at primary school, and I am looking forward to reading them again with my eldest. We have been reading some Roald Dahl books, and I'm still unsure about Harry Potter for a six year old (it's the dead parents bit I think he might struggle with) but I think Narnia might be a good place to go next.
You can use that The Works voucher code PLAY20 to get up to 20% off most things on The Works website, excluding other offers and the code is ongoing so you can use it for all you Christmas shopping.
Home delivery is free on orders over £20, click and collect is free, otherwise delivery costs £2.99.