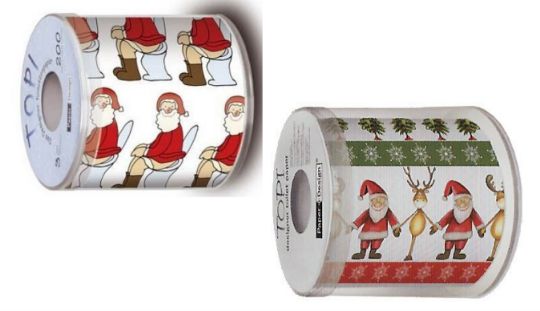 If like me you LOVE Christmas, then you might want to see it wherever you go in the house, even in the bathroom. That's right, the bathroom. Whilst you could wrap tinsel around the loo, it's not exactly practical or advisable, so why not grab some Christmas Toilet Paper? It's a treat and at £4.25 plus £1.75 postage from Amazon Seller: UK Cook Shop, it would have to be. Of course it's a novelty item and isn't meant to replace your Andrex in the run up to Christmas.
There are a fair few different designs all at the same price: Festive Friends*, Cheeky Santa*, Santa in Love*, Smile! Christmas Scented*, Polar Bear's Party*, Raving Reindeer*, Around the World*, Santa's Parade*, Christmas Bird*, Santa's So Busy*, and  Hurry Up*.
The roll itself is 3-ply and has 200 sheets. I can't vouch whether it's soft and gentle or like sandpaper. There are mixed reviews on Amazon but it is mostly a bit of fun and a laugh for when you have visitors.
Enjoy!