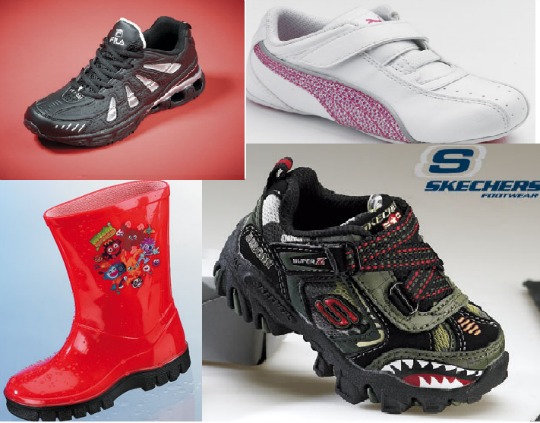 Buying the kids shoes is a costly affair, but it's a must. Here's a deal to make footwear shopping purse friendly. Halfcost is one of those sites where really good bargains crop up. They even do brand names of shoe like Puma and Skechers. Starting from £2.99, you can't afford not to take a look. They are offering free postage and packaging when you spend over £5 until the end of August. Use code FF15 at the checkout and get 5% off.
For only £2.99, Halfcost are selling boys' black Fila Trainers. That is impressive, seriously what can you get for £2.99 these days? Right, so we are expecting them to be made out of cheap materials. WRONG! These are leather, REAL leather. I know, I can't believe it either. Sizes 3 and 4 are available, which is adult size.
Halfcost have the cutest little girls' Puma trainers for only £7.99. They are a very simple pink and white design, but are absolutely adorable. Available in a size 5 and 5.5.
My boys have been bought Skechers trainers by their Granny Blondie a fair few times, over the years. I can hand on heart say that they last. They are very tough on their shoes as well. Half Cost are selling Skechers boys trainers in red/black and camo colours. The camo ones are only £5.99 in a size 4 or 5. The black and red are £6.99 and only on offer in a size 4.
If you adore Hello Kitty, then you are certainly in luck. There's three very different pairs on offer at Halfcost. The first pair are the Snowdrop trainers, pink and black and very cute. These have size 6 in stock, and cost £4.99. The Hello Kitty Bohemian shoe is girly, and made out of shiny patent material. These are also only available in size 6 and are £4.99. The third pair is the Hello Kitty Wagtail, which is like a cute, black school shoe, for £5.99.
The wet weather is a daily occurrence, where I am now. Make sure you grab a pair of wellys now. If your child is a size 12, 13 or a 2 then there's some Moshi Monster ones for only £2.99.  If you have a daughter who happens to be a size 7 then, check out this pair of floral ones for £2.99, here*
Delivery is free when you spend over £5, so if your order is just under then you can add on cheap items from the Halfcost £1 shop, which can be found here*
Why not check out our vouchers section, where you can find codes like FF15 and much more.