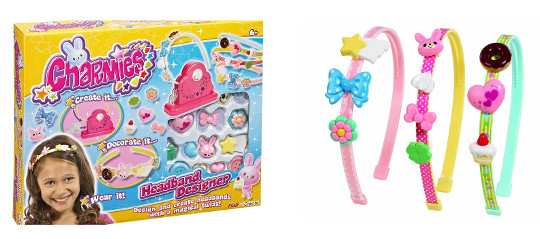 Reduced from £19.99 to £10.99 at Amazon, this Charmies Headband Designer would make a great Christmas present for a crafty little person.
The Charmies Headband Designer allows you to make headbands with lots of different design combinations and colour co-ordinated accessories. There's a special Headband Designed to apply patterned stickers to the coloured band, then choose Charmies to decorate it.
The Charmies are changeable, so you can update your look as you wish, or make completely different headbands for different outfits or hairstyles. You can even make matching headbands for your friends - admittedly more of a draw for the junior market.
Included in the box are the headband designer unit, a sticker case, 3 headbands, 10 Charmies decorations, 10 hook parts, 6 end caps, 10 headband stickers and an instruction sheet.