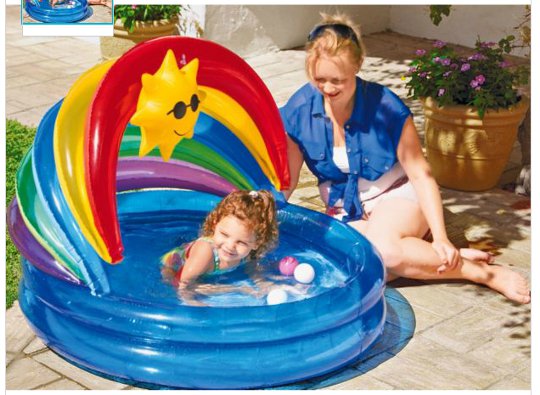 The Chad Valley Sunshine Pool from Argos is currently reduced from £12.99 to £4.99 – less than half price. It is still available for home delivery and there seems to be good stock still for in store pickup.
I've always loved the idea of one of these pools filled with balls for little ones to splash about in even when not filled with water. Unfortunately with a two year old I suspect the balls will end up all over the house and drive me crazy, so I might just pass on this as one of those things that would have been nice for a baby. Of course there is the option of using it as a pool when the sun is out, but lets face it – this might be the only sun we see for the rest of the year!
So, the Sunshine Pool from Argos is made from PVC and has a 150l capacity. They suggest it takes about 6 minutes to inflate and around 5 minutes to fill.
They do put a weight restriction of 25kg and recommend that it is suitable for ages 2 and over and can be used in or out doors.
Thanks to Username57 at HUKD