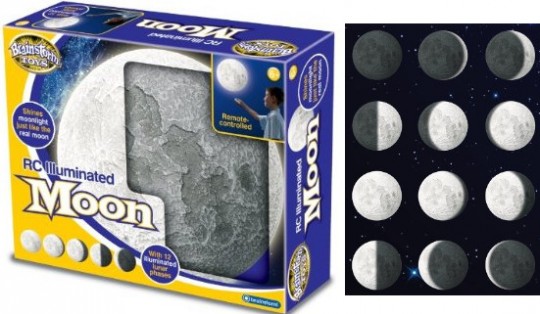 Amazon have reduced the Brainstorm Toys Remote Controlled Illuminated Moon from £30 to £14.98. It's sold by Amazon and as such is covered by the Free Shipping offer.
We're actually due a real live supermoon in the next few days, which will see the moon at it's closest to earth in a while, and much larger than it usually is. Believers say we can expect to see our children be crabbier than we're used to, and more unsettled - oh joy.
Either way, it's a great opportunity to introduce some learning about the moon and it's power and purpose on our beautiful planet.
This authentically detailed model of the moon is designed to hang easily on your wall like a picture and the realistic moonscape shines moonlight just like the actual moon, making for a lovely night light, I'd imagine.
Using the remote control you can automatically scroll through twelve illuminated lunar phases or use the manual function which allows you to set your own moon to look just like the moon outside, from a new moon all the way to a full moon. The moon also includes an auto shut-off mechanism to preserve battery life, making this item perfect for bedtime.
It is really easy to set up and no mains electrics are required, it is powered by just 4 x AA batteries in the moon and 2 x AAA batteries in the remote. The moon's actual size is approximately 26cm in diameter and 6cm in depth.
Thanks to Cas444 at HUKD