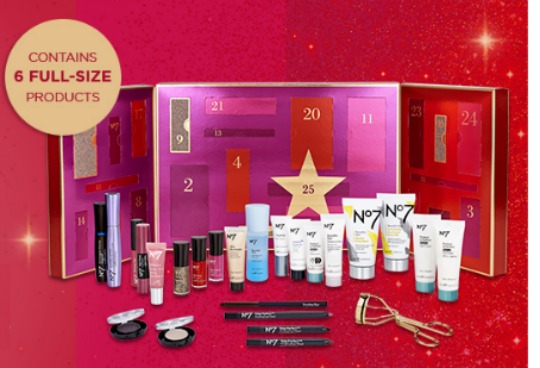 QUICK! The No7 Advent Calendar has literally just gone on sale. You snooze, you lose with this one as it's super duper popular and we can see why. It's a luxury treat for sure and at £38 but containing £148 worth of No7 goodies we can see it selling out VERY fast indeed. If you think you don't want to spend all that, then check your Advantage Card points, maybe you have saved enough over the past year to treat yourself.
Here's what you get in the No7 Advent Calendar:
No7 Lip Crayon Delicate Pink 1.4g
No7 Mini BB Lip Blink Pink 5ml
No7 Shine & Tint Lip Gloss 4ml
No7 Skin Illuminator Peach 10ml
No7 Stay Perfect Nail Colour 4ml Mememe
No7 Gel Look Shine 4ml Pillarbox
No7 Nail Effects Sun Rays 4ml
No7 Mini Eye Shadow 1.5g top shade moonlight shadow
No7 Mini Eye Shadow 1.5g bottom shade forest fruits
No7 Extravagant Volume Waterproof Mascara Black 7ml
No7 Lovely Lashes Mascara Black 7ml
No7 Stay Perfect Amazing Eyes Pencil Bronze 1.2g
No7 Stay Perfect Amazing Eyes Pencil Black 0.8g
No7 Stay Perfect Amazing Eyes Pencil Brown 0.8g
No7 Eye Lash Curler
No7 Smokey Eye Brush
No7 Airbrush Away Primer 10ml
No7 Beautiful Skin Eye Make Up Remover 30ml
No7 Radiance Revealed Exfoliator 15ml
No7 Youthful Eye Serum 7ml
No7 Protect & Perfect Intense Advanced Intense Day Cream 25ml
No7 Protect and Perfect Intense Advanced Night Cream 25ml
No7 Protect & Perfect Intense Hand Cream Day 10ml
No7 Beautiful Skin Blissful Body Wash 50ml
No7 Beautiful Skin Perfecting Body Polish 50ml
That's a lot for the money!
You can Click and Collect the No7 Advent Calendar for FREE from a Boots store near you or pay £3.50 to have it delivered to your front door. These are also available in Boots stores now.