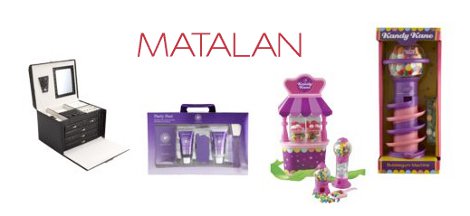 The Buy One Get One Free sale at Matalan has a few great offers for those last minute gifts – perfect for colleagues, friends who don't know each other and those kids who have to have the same gift as their brother or sister.
There are BOGOF items in the gifts for men, gifts for women, and gifts for kidssections, as well as sale items dotted around the rest of the categories. Alternatively, browse just the BOGOF section.
You could get, for example, two JewelleryMannequins for £10.00, or Truffles (£3.00) for those teacher gifts Lynley told you about yesterday.
There's a Candy Sweet Shopfor £8.00 (for two, remember) and Blue and Pink Gumball Machines£5.00 and fab stocking fillers in our house, Fruit Jelly Sweets for £2.00.
Annoyingly, although the items are BOGOF, there's no confirmation of this at checkout. If you add two, you are charged twice, so the assumption is to add only one, but expect two to arrive in the post.

Also, although there are other Matalan promotion codes doing the rounds, such as Christmas10 for 10% off, promotion codes cannot be used with any other offers, including free deliveries on orders over £50 and any promotions, such as BOGOF in your basket will be removed when you apply a code.
Thanks to k8ie1980 at HUKD