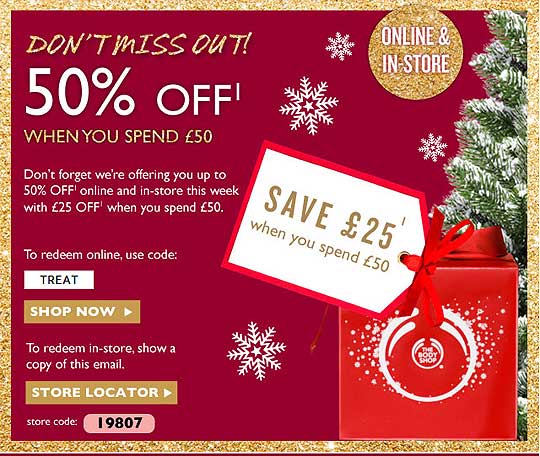 I got an email from the Body Shop yesterday lunchtime, telling me about their 50% off when you spend £50 discount code: you can use it both online and in-store, it's valid until midday 19 November online and until close of business on 18 November for in-store purchases.
Bits and pieces from the Body Shop always make great 'when you're stuck for ideas' Christmas pressies - there's something on their shelves for everyone and, I don't know if it's because of the Body Shop gift baskets of old (do they still do those even?!), but there's just something 'special' about Body Shop things...at least I think so anyway.
Fifty pounds is a lot of money, but remember you're total bill will be closer to the £25 mark (if you stick close to £50) because of the 50% off - so you're effectively getting whatever you buy for half price; marvellous.
I have a perpetual Body Shop list of things that I like to keep on the go: the fabulous Hemp Hand Protector is one of them - I wrote a review about it, HERE, if you want to read it.
Now, if you're going to take advantage of the 50% Body Shop discount online, you just need to enter code TREAT into your basket before you check out.  If you want to use it in-store then print out the image at the top, take it with you and show it at the till - simple.
All you have to do now is choose which Body Shop bits and pieces you'd like to buy; whether you're going to buy them for yourself or make a dent in your 'to buy for other people' Christmas list.
GOOD LUCK!