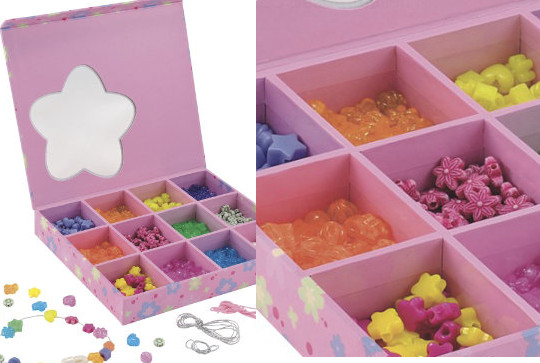 I am not one to start singing about Christmas in March, but good heavens, some of the prices I'm seeing on toys these days make me think you'd be stark raving mad to not stock up for every birthday and Christmas you can right now. For example, the Bead Creation Kit from ELC was £10 but is £5 now. I mean, that's a stocking filler price, for a full gift. Awesome. 
This set of beads contains over 300 assorted plastic beads, elasticated string and connectors to help you make dazzling necklaces, bracelets and whatever other fashion accessories your little diva can dream up.
Along with the array of beads, including flowers, hearts, butterflies, balls and stars, in various colours, you'll find elasticated string and connectors, and it's all packed in a case, perfect for keeping safe.
Obviously there are really small parts in a bead set, so it's not recommended for children under 3.