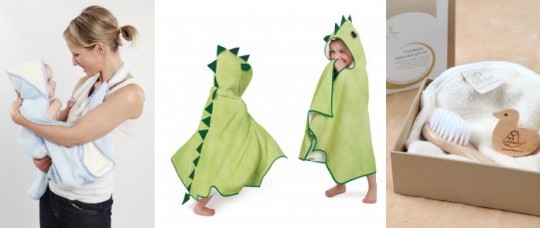 The PlayPennies team are no strangers to Cuddledry, and we've reviewed Cuddledry Colour Changing Bath Mat and The Cuddledry Toweland mentioned special offers on them before too. In defiance of the rain, the people behind Cuddledry are offering 20% off in their online shop.
Beach or bath ready with 20% off
Discount: 20%
Expires:  20 July 2012
Discount Code: Rain20
With Cuddledry's 20% off offer, you can get the SPF50+ Sun poncho for £22.39 instead of £27.99. The poncho towels use patented Rayosan™ technology which deflects harmful UVA and UVB rays off the towel, instead of passing through the fabric and harming your little one's delicate skin.  The towels are for children aged 1 to 3, and are made using soft brushed cotton to give snag-free towelling.  They have poppers under the arms which can be done up to create a loose 'sleeve' when worn, to help keep the towel in place and make it comfortable for its little wearer.
Of course, you can look at the regular Cuddledry bath towels and stock too!