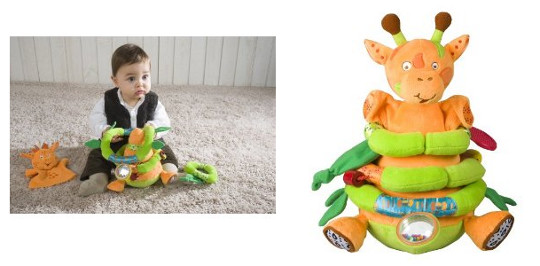 There's a Babymoov Roly Poly Jerry Jumble on sale at Amazon for £17.78 instead of £41.99, making for a 58% saving.
This is such a fun looking toy, but there's not much info on Amazon about it and no reviews. From the pictures though it looks like a compact soft toy that comes apart to reveal a bunch of different toys.
There's a multifunctional roly poly  with a bell and crinkle paper in the giraffe's paws, a magnetic toy, the caterpillar rings, a stacking toy with three different rings, sounds, shapes and textures and a giraffe finger puppet.
I always think toys have such a short shelf life that if you can get more than one activity out of a toy, that's a winner and a definite added bonus and as another bonus, this starts as a soft toy and becomes interactive, so it grows with the child, which is nice too!