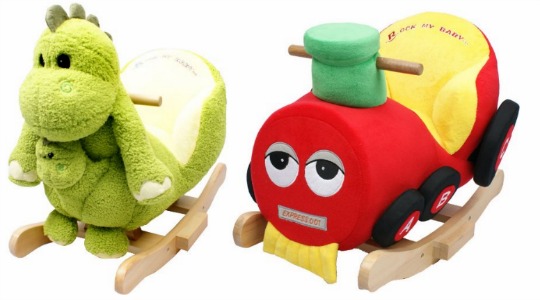 We couldn't help but share these Animal Rockers with sound with you guys. We know a lot of you are looking for that special something for your little dudes. These are very cute and a great price too. Amazon Seller: Electro World are selling these for just £39.99 with FREE delivery included. We think for under £40 delivered, these are a great buy for Christmas.
What I love about these, and what set them apart from other rockers on the market is that they look so luxurious and plush. Press the ear on the animal and a lullaby will sound, which is a nice touch.
You can choose from: Bear, Blue Elephant, Blue Hippo, Dinosaur, Kangaroo, Koala, Pink Dinosaur, Pink Hippo, Sheep, Snail and Train.
The frame of these Play & Learn Rocking My Baby Rockers is made from solid wood, so they should be sturdy enough. You will need two AA batteries to make the sound part work, so make sure you have them on hand.
Amazon suggest that they are suitable for children aged 18 months and over.