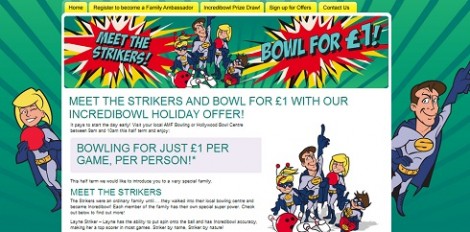 This is a half term offer only. AMF Bowling and Hollywood Bowl are running a special offer between 9am and 10am. You only have to pay £1 per person, for a game.
I would love to take this up. Bowling is so expensive when you're as useless at it as I am, and I know that son would love to have a go at this. At 5 he's probably only really going to be interested in throwing the ball down the lane and hitting the pins (with the bars down!) rather than actually playing a game. Unfortunately, while there are AMF and Hollywood Bowl centres throughout the country, none are near me. There is one a half hour drive away near friends so maybe I'll make it an outing!
There are a few limitations on this offer. You have to pre-book the game online. A maximum of one £1 game per person can be taken each day, and you have to start playing by 9:30am at the latest. The special price is available nationwide, daily from 9am to 10am only, during the half term period. The site does say that you should check with your local centre when booking.
Thanks to EnergySaver at HUKD!