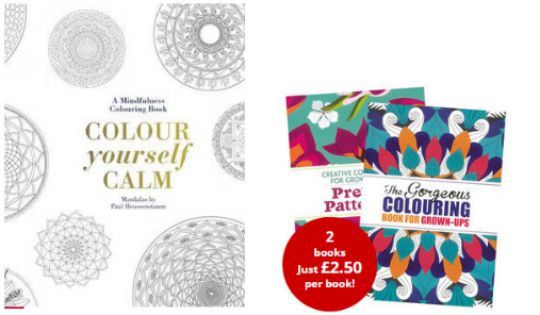 Adult Colouring Books are all the rage just now and I am a HUGE fan. My life is really hectic and that's what it's like for most parents. When I get ten minutes to myself, usually once the kids are all in bed, I make myself a cup of tea and colour in my book. Sometimes I even put music on too. It's so therapeutic and really relaxes me at bedtime. The Book People have a fantastic selection of Adult Colouring Books some are even reduced. Plus, use promo code AFSAVE5 at the checkout and get an extra 5% off of your order.
Using a colouring book doesn't have to be a lone activity either, get the kids to join in. You might want to buy them their own book though, to prevent you freaking out, if they go over the lines.
Here are our favourite Colouring Books for Adults from The Book People: Colour Calm Yourself* now £3.79 with code, Secret Garden* now £7.56, Tropical Wonderland* just £3.79 with code, The Magical City* just £3.79, Colouring for Mindfulness: Gorgeous Patterns* just £2.84 and Colouring for Mindfulness: Nature* also £2.84 when you use promo code.
This Pack of Three Adult Colouring Books* is just £3.79!
Home delivery costs £2.95 or is FREE when you spend £25 or more.