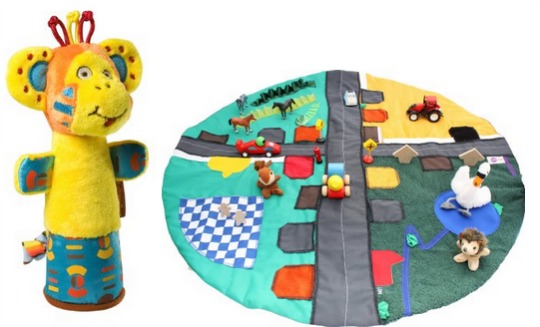 You may already know that you can get £15 off when you spend £60 on items from the Baby Store on Amazon. The lovely Lisa has more information on that here. What's pretty amazing is that running alongside that offer is 50% and more off selected Baby Toys. Those start from just £2.79 and you get FREE delivery when you spend £10 or more on items sold by Amazon. There are 128 items included so get looking for that bargain.
What can you get for under a tenner? A Brainy Baby Music DVD* for just £2.83, Babymoov Squeezer Monkey* now just £3.19, Fisher Price Laugh and Learn iPhone Apptivity Case* just £3.50, The Very Hungry Caterpillar Activity Fun* just £3.99 and lots more.
There are bigger items available too like these: Odeja Baby/Toddler Nesty Playing Pad* just £64.81 or even less at £49.81 when you join Amazon Family and take advantage of that £15 off a £60 spend. This Manhattan Toys Chica Chica Boom Boom ABC Tummy Time Mat* just £26.81 delivered.
You don't just have to spend £60 on just one item or even just on baby toys, you can combine it with anything else from the Baby Store on Amazon.