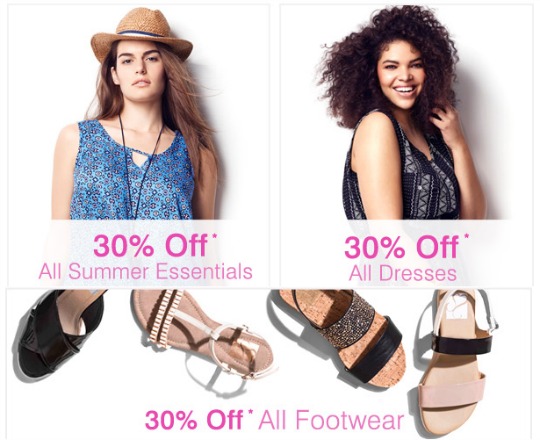 If you are getting ready for your holidays and need new clothes for the summer then Evans have a discount event that is online exclusive today, with savings of up to 30% off everything, including the new season lines.
There is no voucher code to enter, the discount has already been applied to the prices you see on the website. Not everything has 30% off, some have discounts of 10% or 20%, and sale lines that already had big reductions are not reduced any further, but there are some great prices on some lovely summery clothes.
I think I might need to take advantage of this offer myself, having failed to get in to my favourite summer clothes this morning for a trip out. I could diet, but instead I am eating a Krispy Kreme doughnut and looking at nice new clothing. Who wants to wear last summers's fashions anyway? ;)
The 30% off promotion is on until this Friday 29th May, and is online only today, and in stores tomorrow. You can click and collect from Evans stores for free, home delivery is free with the code FREE50 when you spend over £50, or costs £3.95 when you spend less.