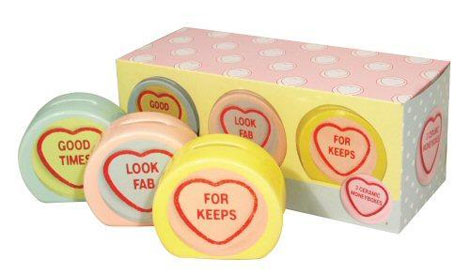 Play are selling sets of three Love Hearts ceramic money boxes for £4.99 instead of £11.99.
These Love Hearts ceramic money boxes are CUTE!
Even though I never really liked eating Love Hearts when I was a little girl, I always loved reading the little love messages on them - another one of those love-hate relationship things for me.
One thing I've always loved though is putting money in money boxes.  My most favourite money box, by far, was the little Cadbury's Dairy Milk 'vending machine' where you put your money in and, in return, would get a tiny little Dairy Milk chocolate.
I got wise to that pretty fast though, and worked out that I could just recycle the same 10 pence piece.
There's no chocolate to be had with these Love Hearts ceramic money boxes though, just the satisfaction of saving your pounds and pennies.
I think these would make a lovely little birthday gift or, and yes I'm going to say it again, stocking filler for Christmas time - there's nothing wrong with getting things sorted now, the year is marching on you know!
Thanks to cat410 at HUKD