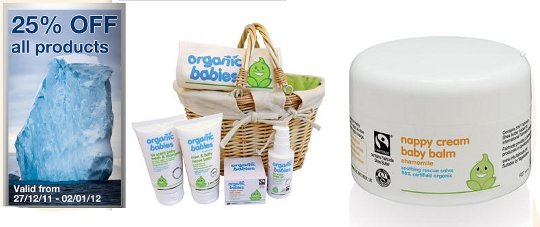 Happy New Year! If you're here and reading this at 8am, you probably didn't have a late night, right? Don't worry, I've written this in time for 8am, so I'm with you! Pregnant with a toddler don't make for all-nighters anymore!
So, if living a more organically is on your to do list for this year, you'll want to check out this fantastic offer from Green People: 25% off everything.
I already have four pots of theNappy Cream Baby Balm ready and waiting for our new arrival, and as is we use it for every cut and scrape – It's the best stuff I've ever come across. It's also £7.09 instead of £9.45 while the offer is valid. (This might only be a 40ml pot, but it lasts forever. I'm pretty sure we won't have to buy any more in the next two years!)
We also received theOrganic Babies New Born Hamper as a gift recently, and there's £8.75 off at the  moment, meaning you pay £26.24 for Organic Babies Wash & Shampoo, Rescue Balm,Baby Oil, Nappy Cream, and an organic bib in a gorgeous wicker basket.
This offer is only valid until the 2nd of January 2012.