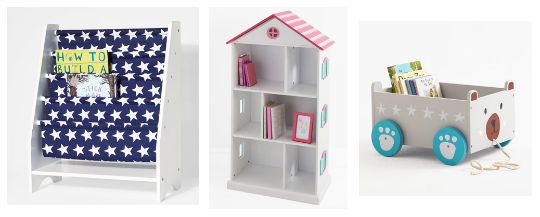 If you're anything like me I am always on the look out for storage solutions for my daughters books, toys, arts and craft bits. It seems to be a never ending battle of mine to keep some toys hidden away, so I don't feel my house has been completely over taken by a 3 year old! :-) I will definitely be heading over to the Great Little Trading Company today to check out their Book Storage range, until midnight tonight they have 20% off all book storage.
I am a big fan of the Great Little Trading Company, their designs and ideas are so fresh and unique, I love the funky prints they use and how well made their items are. The items aren't the cheapest but you really get great quality for the price you pay. I love the idea of this Potter Library Table* normally £90 but today it is £72, it reminds me of trips to the library as a child. I have been looking at these Sling Book Case's for a while now, I absolutely love this navy Star* print one, it is now £52 from £65, there are other designs available also.
How adorable is this Mr Bear Book Storage Cart*?! I love it! It's now £30.40 from £38 and there are other designs available. These Carry Caddy's* come in a variety of designs and are great for arts and crafts, they are now £20.80 from £26. I really want this Doll's House Bookcase* for my daughter's bedroom, it is so darn pretty! It is now £120 from £150.
Standard home delivery is £3.95. This offer finishes at midnight tonight so be quick if you want to place an order!