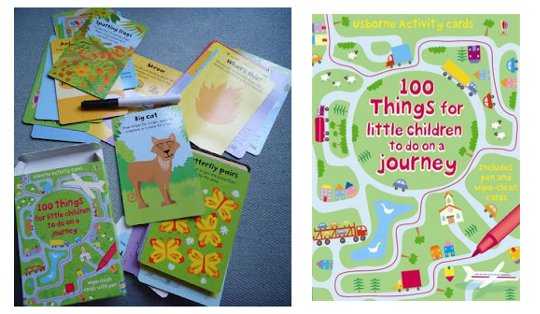 Amazon have an offer on 100 Things For Little Children To Do On A Journey, an Usbourne Books card set, which they have reduced from £5.99 to £3.89.
The kids are almost back at school for the last stint before the summer holidays. If there's one thing extensive travelling with a toddler has taught me, it's to always have things on hand to do. Always have enough activities to fill the long hours in fifteen minute slots. And always have more than you could possibly need, because guess what?  You'll probably need it!
The   is a set of cards containing simple activities to keep little children busy on long journeys. It includes games such as noughts and crosses, as well as puzzles and quizzes using objects which can be found inside the vehicle or in the surrounding scenery. The cards are wipe clean and the pack includes a special pen with which to write the answers on the cards, making the pack entirely self contained and easily portable – although I've found 'special pens' to be a problem all on their own, so make sure to have a notepad and normal pens handy too.
The cards are, says Amazon, robust and durable, ensuring repeated use. The only negative reviews have been about the pen not working – return to my comment about 'special pens' – but overall people loved these and thought they were great.
Thanks to dudebar @ HUKD
Image credit: My Perfect Life