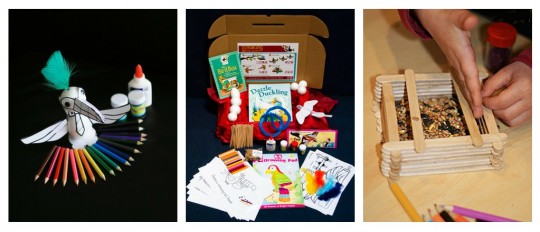 Have you ever found yourself on a rainy day with kids climbing the walls and nothing to do? Well, we find that from time to time, and while I'd love to say how crafty a mum I am, I often find myself totally unable to come up with something to do at the 'last minute'. Then we'll start, and I can't find the scissors, or the glue, or the sparkly pens have been misplaced, and by the time I've got everything together, my daughter's lost interest in what we were going to do and I end up doing the majority of the project myself.
Which is why Toucan Box is a brilliant idea. Basically, every month you receive a box of craft projects to your door, with everything you need included.
The boxes are themed, and come with your child's name printed on the cover. If you have two or more children, you can buy the basic box, and then 'add' a few bits for additional children, so you'll receive one pot of glue, but two sets of model birds, for example.
I've been really impressed with the quality of the craft items from Toucan Box, and with the fact that projects have varying time requirements, with the simplest taking around 15 minutes and the longest taking an hour or so. In addition to the four art projects in the box, there are a few colouring pages just for fun.
At first I thought it might be a bit wasteful – receiving a pack of pencils every month, for example, I soon realised that the pencils were being used every day anyway, and would probably be about done by the time the next box came around.
I really do love the Toucan Box idea, and it's been interesting that my daughter actually returns everything to the box when she's done (she doesn't with other craft items), but the cost of it is the only downside.
You can purchase one box only, to give it a go, for £19.95 (add a sibling for £9.95), a six month subscription for £18.95 per month or a year's subscription for £16.95 per month. It is a lot of money, and might seem a little crazy for four projects a month, but for the convenience, the 'new' ideas (rather than just drawing every day) and the fun of receiving something in the post for little ones, I love it. I think if Granny and Grandpa wanted to give us a gift that kept on giving, an annual subscription would be a winner!
P.S. There's an exclusive discount for PlayPennies readers!