Stabilo Back To School Review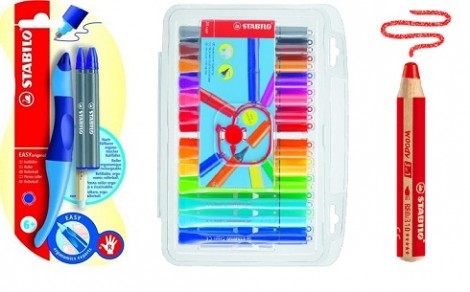 Do you have primary school age children? Government guidelines state that children in year one should have 60 minutes of homework a week. That's a whole hour. At the age of 5. Yikes.
Even before that, when they are in Reception and even Nursery, they will start to practice their letters. Gripping pens and pencils isn't that easy, and for some children it is even harder.
My son is in year 2 now, and has even more homework. I've tried lots of different types of grips, but none have really helped with his particular problem (he can't put a lot of pressure on his fingers). Last year he did his homework in felt tip pen, as a way around the problem. But that's not really something we want to keep doing.
Even if your child doesn't have any issues, a good grip on a pen or pencil can get them started in the correct writing position right from the beginning. And also, they'll find it a lot easier to draw for fun as well.
Stabilo are a brand of stationery that all parents of school children are familiar with. I had the opportunity to try out some of their latest products, to see how they work and what the quality is like.
Here's what we found.
Stabilo Easy Original
I have to say that the Stabilo Easy Original (£3.49 in Ryman stores) is the ideal pen for your child to use to learn to write. My son finds it so much easier to write using this. He actually likes that it is easy to hold his hand in the correct writing position. That's a position he finds particularly difficult, and tends to hold normal pens with a claw like grip.
The pen comes in both right and left handed versions, and in pink or blue. You get three ink refills in the pack too. I have seen this priced in stores anywhere from £6.50 (at WH Smith) to £2.50 (on sale in Sainsburys), so it is worth shopping around.
It has been designed to be a replacement for a fountain pen. The rollerball nib is smooth on the paper, and glides well. At least it does with this pen. I have tried to use one of these before, last year, and the ink I got must have been old or the rollerball defective. The ink did not come out smoothly and it was not nice to use.
I am really glad we gave this another try. I've had no trouble getting my son to use this pen for his homework. He hasn't asked for a felt tip pen once!
Stabilo Cappi
Now here's some words that will gladden any parent's heart. Never lose that felt tip pen cap again! Stabilo Cappi (£6.48 for pack of 12)are felt tip pens that have holes in the lid so the pens can be threaded onto a cap ring. This is supplied with the pen.
The pens themselves have an ergonomic grip, and can be left uncapped for up to 24 hours without drying out. We didn't test that though. They have a slightly thinnish nib, measuring 1mm, so better for drawing rather than filling in.
My son wasn't so pleased with this as he has a thing about putting the caps on the end of the pen. You can't do that on these as the ends are tapered. I liked them though as it means a lot less effort trying to save felt tip pens (and yes I've used cling film before).
The only this is that my son very quickly used the ring itself to yank the caps off, rather than pulling on the caps. This makes me wonder now long the ring will last.
Stabilo Woody 3 in 1
Woody 3 in 1 pencils (£5.49 for a pack of six from Amazon) are very thick, and very chunky. I got them out when a friend was around. Her 2 year old really liked them, instantly using them to grasp club like in her hand as she scribbled on the paper. Her 11 year old son, who is a budding artist, got quite creative with these pencils.
The three in one bit refers to their multi-use design. These pencils are a pencil, watercolour and crayon all in one.
All of which didn't impress my 6 year old one jot. He refused to use them saying they were baby pencils! The 11 year old quite liked the effect that they made on the paper, although he wasn't so sure what they meant by watercolour.
The lead definitely won't break though, and they do produce a smooth, richly textured colour. A definitely plus for all three kids is that these will write on any smooth surface including glass. So we allowed them to express their creativity on the French doors in the living room! Now that's definitely a great idea for a rainy day activity.
And Finally ...
Ergonomic pens and pencils seem expensive, especially when you can pick up a much bigger pack in the pound shop for a whole lot less. But when they're starting out, especially when they're learning to write, having that proper grip in place to guide them does make it easier. I would happily recommend the Easy Original ergonomic pen, particularly for Years 1 and 2.
The other items were nice, but not really necessary. Even though he has problems, a felt tip pen has always been easy for my son to grip and use. I don't think that an ergonomic hold is worth paying extra for. The pencils were quite interesting though, and I think I'd definitely buy them as a present if I saw them on sale.